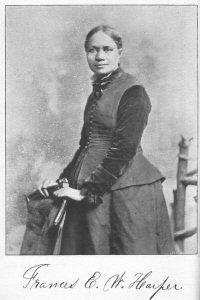 "As Iola finished, there was a ring of triumph in her voice, as if she were reviewing a path she had trodden with bleeding feet, and seen it change to lines of living light. Her soul seemed to be flashing through the rare loveliness of her face and etherealizing its beauty.
Everyone was spellbound. Dr. Latimer was entranced, and, turning to Hon. Dugdale, said, in a low voice and with deep-drawn breath," She is angelic!...She is strangely beautiful!...The tones of her voice are like benedictions of peace; her words a call to higher service and nobler life."
-Iola Leroy, written by Francis E.W. Harper 1892
When I was thirteen I fell in love with African American Women's Literature. The novel that done me in was Alice Walker's A Color Purple. In under grad I knew There Is a God when Agnes Scott College offered a course called Black Feminist Thought. What I didn't know was that my soul would leap for a stranger kind of fiction- Christian Fiction.
Once believed to be the first novel written by a Black author was Francis E.W. Harper's Iola Leroy. I return to this novel often as I write my own works both as a benchmark and as a warning. This month I want to share this novel with you, as it relates to early Black Christian Thought, sociodynamics between Black Women of the early nineteenth century, and what we can learn about storytelling, theme, and orthodoxy as new, liberated Christian writers.
You can pick up a copy of Iola Leroy at your local library or download the text version for free
here
. So there's no excuse. Ha. :) If you do, please let me know in the
gospel fiction forum
.
Other Reading Guides for Iola Leroy:
Related Articles: