hh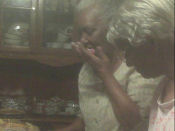 Every year my family celebrates not only America's independence on July 4, but also our Aunt Doretha's birthday. This year she will be seventy-six. She's taught me a great deal about humility, inner strength, faith, longsuffering, and the long road my culture has traveled to get to where we are now, especially in the publishing industry.
Like the fictional maids in Kathryn Stockett's popular novel
The Help
, for most of Aunt Doe's life, she wasn't afforded the opportunity to share her writing with the world. She was a South Georgian maid and nanny in the 1960s. She lived in a town that threatened to murder anyone who thought about protesting with a march, boycott, or sit in.
Back then freedom for a black woman meant silence. So she kept her thoughts to herself by writing. She wrote in notebooks and prayer journals locked away, only to be read by herself. Sometimes she shared her writing with me or her sisters. Back then there were very few places for women of color to publish their writing, yet she continued to write.
But she didn't write to become published. She wrote to bear her soul, to dream of being free, and to pray for her family's future. I would like to believe she prayed for me to have the blessings denied her for so many years because of her race, class, and gender.
So to honor Aunt Doe, I am spotlighting four current historical
Christian Fiction
novels about women of great faith who persevered despite their ethnicity, culture, and societal restraints.
More…