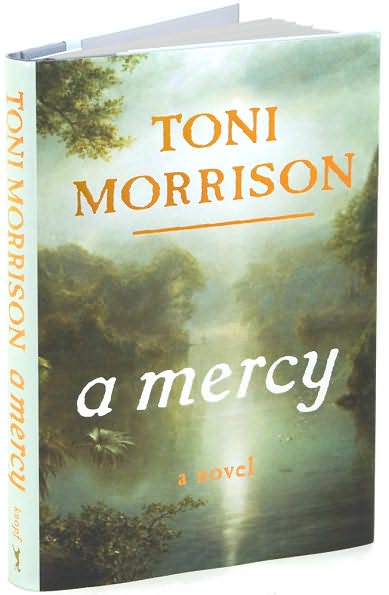 I have been excited for the past few months, anticipating my favorite part of the year, counting down my idea of the best novels written with Christian themes. I call these books Gospel Fiction. Throughout the week I will share these books and recap all the books I've covered here this year as well. I hope you enjoy.
My first pick. Noble laureate Toni Morrison's A Mercy.
An excerpt...
A praying savage, neighbors call her[Lina,] because she is once churchgoing yet she bathes herself every day and Christians never do. Underneath she wears bright blue beads and dances in secret at first light when the moon is small. More than fear of loving bears or birds bigger than cows, I fear pathless night. How, I wonder, can I find you in the dark? Now at last there is a way. I have orders. It is arranged. I will see your mouth and trail my fingers down. You will rest your chin in my hair again while I breathe into your shoulder in and out, in and out. I am happy the world is breaking open for us, yet its newness trembles me. To get to you I must leave the only home, the only people I know. Lina says from the state of my teeth I am maybe seven or eight when I am brought here. We boil wild plums for jam and cake eight times since then, so I must be sixteen.
Why it's one of my top picks?
What I loved so much about this novel is Morrison's storytelling ability and how she uses prose to create such vulnerable and vivid characters.
The story has POV shifts that blend and blur. For someone unfamiliar with Faulkner or southern romanticism in literature her writing albeit different at first, is a slow, rich, savory morsel of book eating. You will savor every page of this short novel.
Return tomorrow and I will share my next pick. It comes from an unlikely source.
Related Articles