Happy Birthday
Christian Fiction
Blog!! (click above to listen to me sing Happy Birthday lol) My Baby is five years old. Waaaaa!!!! Before we begin Kindergarten let's celebrate. Every day this week I will give a book. The books I will give away our books where the author acknowledged either me(Dee) or the blog.
Today I am giving away
Amy Wallace
's
Enduring Justice
. If you read the book you will know why she acknowledged me.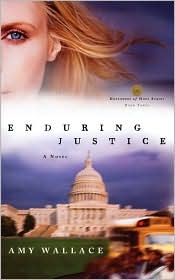 About the book:
A painful past
Hanna Kessler's childhood secret has remained buried for over two decades. But when the dark shadows of her past threaten to destroy those she loves, Hanna must face the summer that changed her life and the man who still haunts her memories.

A racially-motivated killer
As a Crimes Against Children FBI Agent, Michael Parker knows what it means to get knocked down. Difficult cases and broken relationships have plagued his entire year. But when the system fails and a white supremacist is set free, Michael's drive for retribution eclipses all else.

A life-altering choice
A racist's well-planned assault forces Hanna and Michael to decide between executing vengeance and pursuing justice. The dividing line between the two is the choice to heal. But when the attack turns personal, is justice enough?
About the Defenders of
Hope series
:
Visit
http://www.defendersofhope.com/
To participate in the giveaway, you need 1 of 3 do three things:
Share this contest on your Twitter page and submit the link

Share this contest on your Facebook page and submit the link
post this contest on your blog and submit the link
submit your links in the comments section. winner will be announced July 1, 2009.
Check in tomorrow for the next book I'll be giving away by subscribing to Christian Fiction Blog in the sidebar or right here
Subscribe to christianfiction by Email