Twitter Book Club Discussion: Gathering of Waters
Join us for our first #blacklitchat Twitter party of 2012. We are excited and honored that Bernice McFadden is out host for this chat. We will be discussing her fantabulous new novel, Gathering of Waters (January 2012)
BERNICE L. McFADDEN is the author of seven critically acclaimed novels including the classics Sugar and Glorious, which was featured in O, The Oprah Magazine, selected as the debut title for the One Book, One Harlem program, and was a finalist for the NAACP Image Award. She is a two-time Hurston/Wright Legacy Award finalist, as well as the recipient of two fiction honor awards from the BCALA. Her sophomore novel, The Warmest December, was praised by Nobel Prize-winning author Toni Morrison as "searing and expertly imagined." McFadden lives in Brooklyn, New York.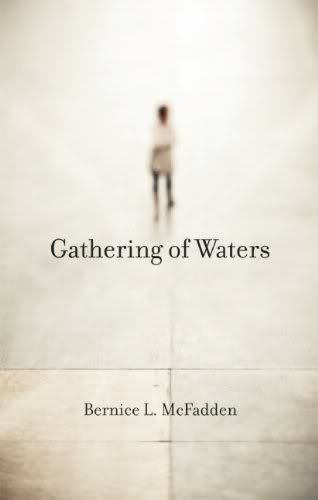 GATHERING OF WATERS is a deeply engrossing tale narrated by the town of Money, Mississippi--a site both significant and infamous in our collective story as a nation. Money is personified in this haunting story, which chronicles its troubled history following the arrival of the Hilson and Bryant families.
TASS HILSON AND EMMETT TILL were young and in love when Emmett was brutally murdered in 1955. Anxious to escape the town, Tass marries Maximillian May and relocates to Detroit.
FORTY YEARS LATER, AFTER THE DEATH OF HER HUSBAND, Tass returns to Money and fantasy takes flesh when Emmett Till's spirit is finally released from the dank, dark waters of the Tallahatchie River. The two lovers are reunited, bringing the story to an enchanting and profound conclusion.
GATHERING OF WATERS mines the truth about Money, Mississippi, as well as the town's families, and threads their history over decades. The bare-bones realism--both disturbing and riveting--combined with a magical realm in which ghosts have the final say, is reminiscent of Toni Morrison's Beloved.
Following her best-selling, award-winning novel Glorious, McFadden produces a fantastical historical novel featuring the spirit of Emmett Till.
"The rich text is shaped by the African American storytelling tradition and layered with significant American histories. Recalling the woven spirituality of Toni Morrison's Beloved, this work will appeal to readers of mystic literature."
--Library Journal
"McFadden makes powerful use of imagery in this fantastical novel of ever-flowing waters and troubled spirits."
--Booklist
"As strange as this may sound, Bernice L. McFadden has created a magical, fantastic novel centered around the notorious tragedy of Emmett Till's murder. This is a startling, beautifully written piece of work."
--Dennis Lehane, author of Mystic River
"In her new novel, Gathering of Waters, Bernice McFadden brings her own special vision to the unfortunate story of Emmett Till and his murder in Money, Mississippi. This moving and magical novel, which traces the generations leading up to and away from that horrible night in 1955, drew me in immediately and swept me along through its richly imagined world. I couldn't stop reading, caught up as I was in that enticing place between truth and fantasy, the here-and-now and the what-was, the living and the dead, the ugliness and the beauty, the hatred and the love. What a rich chorus of voices Bernice McFadden has fashioned from this place called Money."
--Lee Martin, author of Break the Skin and The Bright Forever
Join us this Sunday, January 22, 2012 at 9PM ET to chat LIVE with Bernice McFadden about GATHERING OF WATERS here.