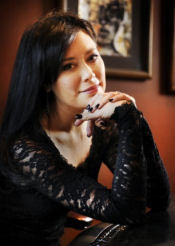 Happy New Year! I'm so excited about 2011, not just because my mom is on the road to recovery and cancer survivorship, or that my debut novel, A Good Excuse to Be Bad, releases just in time to be your summer fun beach read, but because I am not alone in looking forward to reading some of the most anticipated novels—in not just my opinion—to date.
For the past three months I've thumbed through publishing house sneak peak flyers, chatted with book club presidents, polled my thousands of subscribers at Christian Fiction Blog, chatted with my Twitter and Facebook buds, and have found something startling: The two most anticipated novels of 2011 are written by Christians.
Therefore, I'm ecstatic to share quick interviews with both Tosca Lee (Iscariot) and Reshonda Tate Billingsley (Say Amen Again) about their strong, buzzworthy, upcoming titles. Click Here to read the full interview at Christian Fiction Online Magazine.