My August  MD Column for Christian Fiction Online Magazine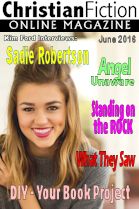 This summer I have been blessed to feature women's voices in Christian fiction. Last month I shared four women authors who have inspired us by telling American history through their eyes. This month I want to step into the future.
With the digitization of publishing and the changing formatting of book creation, the publishing industry is evolving, changing at a rate so fast the industry still hasn't caught up. ABA publishers are purchasing CBA houses. Marquee authors are losing book deals or changing houses, while other authors, especially women authors, are riding these shifts like a soft ripple on a lake. Click link to continue.