Happy Anniversary to #blacklitchat!!! We are pleased to announce that Sunday, October 30, 2011 at 9pm EST  Silver Sparrow author, Tayari Jones will be our Special Host for #blacklitchat Tweet Chat on Twitter!!!!!!!!!! So all you fans of Tayari, lets have an online book chat with her. We may have some surprise drop ins from past #blacklitchat co-hosts.
Tayari Jones
Her first novel, Leaving Atlanta, is a coming of age story set during the city's infamous child murders of 1979-81. Jones herself was in the fifth grade when thirty African American children were murdered from the neighborhoods near her home and school. When asked why she chose this subject matter for her first novel, she says, "This novel is my way of documenting a particular moment in history. It is a love letter to my generation and also an effort to remember my own childhood. To remind myself and my readers what it was like to been eleven and at the mercy of the world. And despite the obvious darkness of the time period, I also wanted to remember all that is sweet about girlhood, to recall all the moments that make a person smile and feel optimistic."
Leaving Atlanta received many awards and accolades including the Hurston/Wright Award for Debut Fiction. It was named "Novel of the Year" by Atlanta Magazine, "Best Southern Novel of the Year," by Creative Loafing Atlanta. The Atlanta Journal-Constitution and The Washington Post both listed it as one of the best of 2002. She has received fellowships from organizations including Illinois Arts Council, Bread Loaf Writers Conference, The Corporation of Yaddo, The MacDowell Colony, Arizona Commission on the Arts and Le Chateau de Lavigny.
Her second novel, The Untelling, published in 2005, is the story of a family struggling to overcome the aftermath of a fatal car accident. When asked why she chose to focus on a particular family in this work after the sprawling historical subject matter of Leaving Atlanta, Tayari Jones explains, "The Untelling is a novel about personal history and individual and familial myth-making. These personal stories are what come together to determine the story of a community, the unoffical history of a neighborhood, of a city, of a nation." Upon the publication of The Untelling, Essence magazine called Jones, "a writer to watch." The Atlanta Journal Constitution proclaims Jones to be "one of the best writers of her generation." In 2005, The Southern Regional council and the University of Georgia Libraries awarded The Untelling with the Lillian C. Smith Award for New Voices.
The Silver Girl, her highly anticipated third novel, is forthcoming from Algonquin Books. An excerpt has been published in Calaloo. Tayari Jones debuted the piece as a headline reader at the conference of the Associated Writers Conference in Atlanta.
Tayari Jones is a graduate of Spelman College, The University of Iowa, and Arizona State University. She has taught at Prairie View A&M University, East Tennessee State University, The University of Illinois and George Washington University. Currently, she is an Assistant Professor in the MFA program at Rutgers-Newark University. She was recently named as the 2008 Collins Fellow by the United States Artists Foundation. She will spend the 2011-12 academic year at Harvard University as a Radcliffe Institute Fellow, researching her fourth novel. http://www.tayarijones.com/books
I've heard about Silver Sparrow, but don't know what it's about?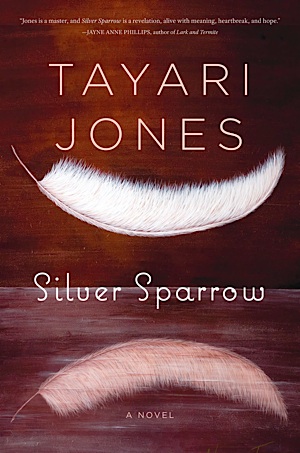 With the opening line of Silver Sparrow, "My father, James Witherspoon is a bigamist," Tayari Jones unveils a breathtaking story about a man's deception, a family's complicity, and the teenage girls caught in the middle.
Set in a middle-class neighborhood in Atlanta in the 1980s, the novel revolves around James Witherspoon's families– the public one and the secret one. When the daughters from each family meet and form a friendship, only one of them knows they are sisters It is a relationship destined to explode when secrets are revealed and illusions shattered. As Jones explores the backstories of her rich and flawed characters, she also reveals the joy, and the destruction, they brought to each other's lives.
At the heart of it all are the two girls whose lives are at stake, and like the best writers, Jones portrays the fragility of her characters with raw authenticity as they seek love, demand attention, and try to imagine themselves as women.
Praise for SILVER SPARROW:
"Tayari Jones is fast defining middle-class black Atlanta the way Cheever did Westchester…"
—The Village Voice
"A love story... full of perverse wisdom and proud joy....Jones's skill for wry understatement never
wavers."—O, The Oprah Magazine

"Jones is a master and Silver Sparrow is a revelation, alive with meaning and hope."
—Jayne Anne Phillips, author of Lark and Termite
"Silver Sparrow is rich, substantive, meaningful. It is also, at turns, funny and sharp, haunting and heartbreaking."—The Root (The Root )
"Nakedly honest...dazzlingly charged" —Atlanta Journal Constitution (Atlanta Journal Constitution )
What is BlackLit Chat?
It's a stream of tweets about books by Black[including Pan-African, African-American, Brit, Caribbean, Canadian Black, etc.] authors in real time during a specified time. Our time  for this chat is Sunday, October 17, 2010 from 7-8 PM EST. Remember it here via Facebook at http://www.facebook.com/blacklitchat.
 How does it Work? 3 Easy Steps
Get a

Twitter

account, or login, or remember your Twitter Password.

Now login with your Twitter Password.

To join the conversation on October 30, please follow #blacklitchat on Twitter for a conversation moderated by me (@BernadetteDavis) and my co-moderator @deegospel. And if you aren't already, follow @tayari