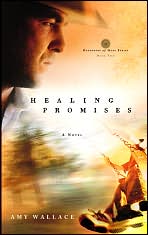 Healing Promises (Defenders of Hope Series #2)
In this follow-up to Ransomed Dreams, FBI agent Clint Rollins is shocked by a dreaded medical diagnosis. His wife, Sara, is a doctor, but Clint needs her personal support and strength as well. In spite of his health problems, Clint continues to chase a serial killer, but he may be losing his faith in a God that performs miracles. - Tamara Butler, Library Journal
My favorite passage:
"But I want you to know that even when the journey ends in a way you couldn't have imagined and didn't ask for, God is still there. Every step of the way. You can believe that, Sara. Lean on Him, and He'll hold you up. He'll show you how to say what Job did: "The Lord gave, and the Lord hath taken away; blessed be the name of the Lord."
I'm usually not a big fan of sermonettes in dialogue, but Amy writes so subtle and graceful she snuck this one in on me and it fit where it needed to be. And...at the time...I needed a little sneaky Jesus speak. :) Thanks, Amy.