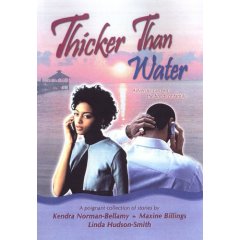 Thicker than Water
BET/New Spirit releases Kendra Norman-Bellamy, Maxine Billings, Linda Hudson-Smith's anthalogy
Thicker than Water
about the power of twins.
Anthology overview:
"A Gracious Thanksgiving(Norman-Bellamy") is the story of fraternal twins, Deshawn and Shandi who were raised apart and have led very different lives. When Shandi, now in her twenties, seeks out her birth mother, she instead finds Deshawn. DJ, as he is affectionately known, is now a pastor and has enjoyed a privileged middle-class life, nothing like Shandi's lifelong struggle to survive. Only with DJ's heartfelt love and guidance will she be able to break through the feelings of resentment and jealousy that threaten to overtake her.
"The Devil's Advocate(Hudson-Smith)" chronicles the life of Malachi Trudeaux who was estranged from his wife for many years and denied access to twins Stephen and Stephanie during their childhood. Now a wealthy man, Malachi invites his children to visit his New Orleans estate. His generosity divides them. Stephanie is willing to forgive, but Stephen is bitterly clinging to the hurts of the past. Can Stephanie help her brother accept the unconditional love that will bring him home?
"A Healing of the Hearts(Billings)" is the tale of twins, Kenya and Zaire, once inseparable but now strangers at the age of thirty. Raised by their maternal grandmother after their parents' tragic deaths, they vowed to stay together forever. And they did...until Zaire met a man and fell in love after high school. Zaire followed her new love to New York, leaving Kenya to look after their elderly grandmother. It'll take a special wish to erase years of misunderstanding and prove that family bonds still hold strong.
"A dazzling trio of authors brings you tales of hope, true faith and reconciliation, as three sets of twins rediscover what really matters..."
~ BET Books
I'm awaiting my copy of this novel. Because I have a twin brother('sup, Big Dave! :) ,) I'm interested to see, if the authors come close to the bond we have. Note: Kendra, you could've called me for research. :)
Dee