Click the pic to purchase the book.
Conflicted with the Harry Potter series' magic references, but want your child to love to read and also learn about his place in Christ's world? R.K. Mortenson's
Landon Snow
may be your best bet. It's reminiscent of
Alice in Wonderland
and Disney's Beauty and the Beast, because of talking inanimate objects. Chock full or riddles and clues that your child will have to ponder over to solve( a good thing) like Dora the Explorer interactive. And what I liked most is that Landon's voice was clever and smart for his young age, which is quite true. My five-year-old talks on the phone with her five-year-old best friend, Tora, and their conversation is what I did when I was a tweenager. They are so ahead of us with diction.
As a book artist, I adored the uniqueness of the design of the book. It is small for a child to keep in his backpack or to carry in their hand. The paper that the story is printed on reminds me of the Strathmore paper I use to draw portraits on. Its a great texture and the cover art is incredibly beautiful like a Byzantine era illuminated Gospel Book.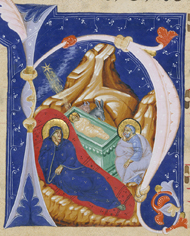 The Nativity, Master of Gerona, late 1200s

The design and the story creates what young people of that age are searching--the meaning of life and death, mystery, fantasy, direction and God.