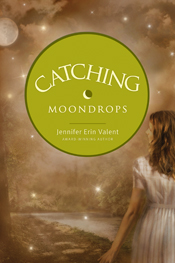 An excerpt from Jennifer Erin Valent's Catching Moondrops
…
"Now, I'm all for civil uprisin'," Tal continued. "I don't see nothin' wrong with colored folk sayin' they won't be walked on no more. I don't see nothin' wrong with wantin' to use the same bathroom as white folks or sit in the same chairs as white folks. Way I see it, none of that's goin' to change unless someone says it has to." He squatted in front of Malachi again and stared him down nose to nose. "But all this hotshottin' and showboatin' ain't goin' to do nothin' but get your rear end kicked. Or worse. You aim to stand tall for somethin'? Fine. Stand tall for it. But don't you go around thinkin' these battle scars say somethin' for you. You ain't got them by bein' noble; you got them by bein' stupid. All's these scars say is you're an idiot."
Summary: Jessilyn Lassiter no longer has to convince people she's not a child. Having just turned 19 in the summer of 1938, her love for Luke Talley has never been more real. And Luke is finally beginning to care for her in the way she's always dreamed of. But their budding romance is interrupted when Tal Pritchett—a young, black doctor—comes to Calloway, stealing the heart of Jessilyn's best friend, Gemma, and stirring up the
racial prejudice
that has been simmering just beneath the town's surface. The tension starts to bubble over when Jessie's elderly neighbor Miss
Cleta
becomes the first white townsperson to accept Tal's treatment. And when a young black man is lynched, Calloway is brought to its knees once again as Jessilyn realizes that her anger can make her heart as full of hate as the klan members who have terrorized her town and her family.
My review:
The first lines of the book bothered me. It reminded me of James McGovern's
Anatomy o f a Lynching: The Killing of Claude Neal
. I'm still not sure if I'm in the right mental place to revisit this horrific era in
American history
. With the November elections and the nasty name calling of our President, I know this book is a relevant read. Perhaps this era is a safer read for the audience it was written for.
I would have loved for
Tyndale
to acquire an
African American
historical author, who could right about the same era, sort of like a literary diptych. Perhaps I will revisit this story when Sharon Ewell Foster's novel of
The Resurrection of Nat Turner
comes out 2011
Gemma and Tal's romance doesn't satisfy me, but I wasn't expecting it to. The relationship was the framework for the true story of Jessilyn's self actualization and journey toward understanding social justice.
Moreover, Valent's Jessilyn makes this story a worthwhile read. However, just like The Help I've grown tired of reading stories of southern white women's rebuttals about
Jim Crowe
. What I liked most is that Valent didn't dare try to be the voice of The Woman's Club Movement or Black Womanist Thought like the Help. She showed a level of respect for a culture she can only know from the outside looking in. Catching Moondrops's Jessilyn definitely personified that reality.