In honor of Inter­na­tional Chick Lit Month I'm cel­e­brat­ing with 34 fab­u­lous authors for the Chick Lit Author Blog Hop. Not only are we cel­e­brat­ing, but we're giv­ing away ebook good­ies and a $150 Sephora Gift Card for those of you who play along. So Wel­come to my spot on the hop and let's get started…
Chick Lit on the Edge
I fell in love with Chick Lit in high school when I was intro­duced to Jane Austen. How­ever, I didn't think I could write it, because for some odd rea­son some­one has to die in my sto­ries, my main char­ac­ter has to be smack dab in the mid­dle of the crime scene, and she has to be smit­ten by a bad boy.
My Angel Craw­ford Series is more like a Chick Lit Sus­pense. It's min­i­mal on the crime pro­ce­dural jar­gon, strong on the page turn­ing, man­hunt action filled sus­pense, and heavy on women try­ing to do the best they can to live their best life and look good while doing it.
Once I became pub­lished I was over­joyed to found sim­i­lar chick­lit sus­pense nov­els like mine. Here are two of my favorites:
Kate White's Bai­ley Weg­gins Series is my favorite. 'Til Death Do Us Part was the novel that hooked me to the series. I had to go back and catch up.
Syn­op­sis: True crime writer and sometime-sleuth Bai­ley Weg­gins takes the plunge into a world of domes­tic divas and deadly nup­tial doings … When she gets a call from Ash­ley Hanes on a frigid night, Bai­ley expects to be hit up for fash­ion show tick­ets. Instead Ash­ley reveals that two brides­maids from Pey­ton Cross's wed­ding have recently died in freak acci­dents … and Ash­ley is ter­ri­fied she's next.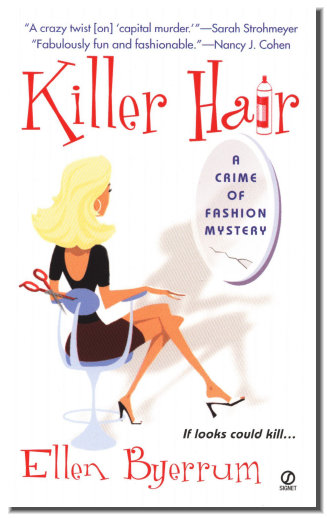 Syn­op­sis: Fash­ion reporter Lacey Smith­son­ian tack­les a deadly fash­ion crime in Wash­ing­ton, D.C., when A beau­ti­ful dead hair­styl­ist, is found mur­dered. Amid ditzy diva styl­ists, a fog of D.C. scan­dals and con­spir­a­cies, and a wave of "assisted" sui­cides, Lacey must tease out the twisted truth before she becomes the vic­tim of the Cap­i­tal City's next fatal coif­fure, assisted by her unstop­pable styl­ist, a short-circuited psy­chic, and the one man she thought she'd never have a sec­ond chance with.
To win a copy of my upcom­ing release

SOMEONE

BAD

and
SOMETHING

BLUE

(June 2012),leave a com­ment with your name and email address
.
Beau­ti­ful, brainy, and tough-as-nails, sin­gle mom and bail recov­ery agent turned sleuth Angel Craw­ford has a lot on her plate. But between crime-solving and kinder­garten car­pool, it's all in a day's work…
Ordered to take a vaca­tion, Angel gives in–and sets out to solve the mys­tery that's got her liv­ing on the edge: a dis­turb­ing deliv­ery and haunt­ing mes­sage that trans­ports her back to the tragic day her fiancée, Gabriel Hwang, was mur­dered. Con­vinced the trail to the killer is no longer cold after six long years, Angel embarks on a hunt for the truth that pro­pels her into Atlanta's secre­tive speakeasy soci­ety, the annual Run­ning of the Brides, and a romp around a swamp with a hand­some U.S. Mar­shall that may ruin her future with Pas­tor Jus­tus Too-Hot-To-Be-Holy Mor­gan. That is, pro­vid­ing she has a future…
Now here's your chance to win other nov­e­l­i­cious Chick Lit e-books or a $150 Sephora gift card, read on!
Chick Lit Author Blog Hop Rules:
–Each of the 34 par­tic­i­pat­ing authors has writ­ten a Chick Lit-centric piece. At each stop on the blog (includ­ing mine), you will have the chance to win a free Chick Lit e-book!
All you have to do is leave a com­ment on the blog post, includ­ing your name and email address, and you're auto­mat­i­cally entered to win!
–At the end of this post, you will find a list of all of the stops, so get hop­ping and I know you'll find some fab­u­lous books.
–And, if you'd like a chance to win a
$150 gift­card to Sephora
, visit all 34 blogs, and in each of the author's posts, you will find a
secret ital­i­cized word
.
Col­lect all 34 secret ital­i­cized words and email the list to CLABlogHop@aol.com before mid­night on

Sun­day, May 20th

, and you will be entered to win!
–The e-book win­ners as well as the Grand Prize Sephora gift­card win­ner will be announced on
Mon­day, May 21st
.
*
Con­tests are open to res­i­dents of the United States only.
And so with­out fur­ther ado, here are the Chick Lit Author Blog Hop Participants:
Related arti­cles