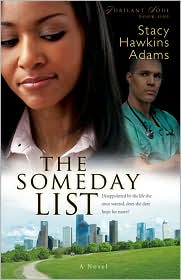 EXCERPT FROM The Someday List (Prologue)
Do you want to read the excerpt? Read it online at:
http://stacyhawkinsadams.com/books/tsl/excerpt.html
ABOUT THE BOOK
The Someday List

Jubilant Soul Series Book One
by
Stacy
Hawkins Adams
Rachelle Covington has it all. A fabulous home, a handsome and prestigious husband, two beautiful children, and a place in the upper crust that's quite comfortable. But her life is not all it's cracked up to be. When her husband goes away on business trip and the kids are sent off to the grandparents for a month, Rachelle takes up the challenge of a dying friend to start a list of things to do before she dies. She heads back to Jubilant, Texas, to reconnect with her past, her purpose, and herself. But when her ex shows up in town looking very fine and very single, Rachelle must confront feelings she thought she'd long buried. Will she give up everything to recover the past? Or will she find a reason to plan for the future? The Someday List is an honest look at what makes us who we are and what can throw us off track. Author
Stacy
Hawkins Adams writes with a voice that is fresh, sincere, and completely real. Her characters jump off the page and into her readers' hearts.
For more information about
Stacy
, visit her at
stacyhawkinsadams.com
.


THE SOMEDAY LIST BLOG GIVEAWAY


Stacy
Hawkins Adams is the author of four Women's Fiction books and has contributed to two anthologies. Read the question below to see if you can answer it and provide the name of the book in which it was featured.
What did Charlotte give Serena, Erika and two other young ladies to teach them a life lesson? In what book was this scene featured?

Leave your answer in the comment section. Entries with the correct answer will be entered into a drawing for the The Someday List Blog Giveaway. View the prize package below:

$50 American Express Gift Card
Autographed Copies of all of

Stacy

's books: Speak to My Heart, Nothing But the Right Thing, and Watercolored Pearls, and the anthologies The Midnight Clear and This Far By Faith.
20% Discount Coupon from Tywebbin Creations. (May apply to one service)

Join Us for an Hour Long Chat with
Stacy
on
January 30, 2009
. We will announce the
GRAND PRIZE WINNER
of the
THE SOMEDAY LIST BLOG TOUR GIVEAWAY
during the call. For details, visit
Stacy
's blog.
~ ~ ~

THANK YOU FOR STOPPING BY TODAY!

Continue to visit other stops on
The Someday List
Blog Tour at:
http://www.stacyhawkinsadams.com/blog